Currently, our euthanasia rate is 6%.
Please help us bring that
number down even further.
---
The Five Freedoms
All animals
under human care deserve
"The Five Freedoms"
1. Freedom from hunger and thirst
2. Freedom from discomfort.
3. Freedom from pain, injury and disease.
4. Freedom to express normal behavior
5. Freedom from fear and distress.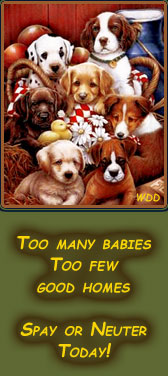 ---

Click here for info on a typical case.
About the Beebe Humane Society
We exist for the sole purpose of helping the animals in White County, Arkansas.
Finding loving adoptive homes for
unwanted pets is our number one priority.

Navigation links appear at bottom of pages through out this site.
The Beebe Humane Society is a non-profit organization serving the White County area of Arkansas since February of 2003. Beebe Humane Society (BHS) is the only Humane Society that will step outside the city limits in White County and help county animals. The Beebe Humane Society covers cruelty, abuse and neglect calls on a daily basis.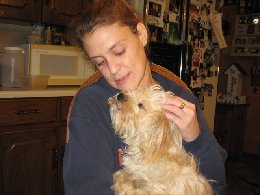 DONATE TO THE BEEBE HUMANE SOCIETY!
Click this button:

The Beebe Humane Society began in February of 2003 when a few concerned citizens in the community of Beebe wanted to help the animals in the area and at the local shelter. Since then the Humane Society has expanded beyond anyone's dreams. Our space is limited and it seems we are always full to overflowing. One of our greatest needs is for foster homes to assist in caring for animals until they can find forever homes.
We are always grateful
for one more foster home!
Click here to find out how YOU
can be an animal foster care provider.


We work very hard to give each and every animal in our care the best chance possible at a new, loving home. We post all animals to the websites. We show adoptable animals at every opportunity. We do our best to screen new homes and ensure that animals are going into a situation where they will be loved, well cared for, and treated with respect.
Unfortunately in this day and time the reality is: there are too many animals. Even though we would like to be, we are not a no-kill humane society. With aggressive spay/neuter laws and public education we hope to reach that goal.
Currently our euthanasia rate is only 6%. What this means is that 6% of the animals that we take in are humanely put to sleep. This does include aggressive, sick, or otherwise unadoptable animals.
The Beebe Humane Society receives no city or county funding.
We are currently operating without the assistance of grants. We are run strictly out of pocket and from adoption fees and public donations. Please consider making a tax-deductible donation to help with this important and heart-felt work.

Click the button.

Make an on-line donation - safe, secure and quick!

Beebe Humane Society uses PayPal.
Navigation links at bottom of pages through out site.