Beebe Humane Society Newsletter
Past Adoptions-
We give them the love we can spare, the time we can spare. In return, dogs have given
us their absolute all. It is without a doubt the best deal man has ever made. – Roger Caras
Things have been very hectic at the Beebe Humane Society over the last month. We do have some
new faces to tell you about, and I'm sure you will fall in love. The weather has stayed extremely hot,
with temperatures ranging in the low 100's and the heat index pushing it up to 110-115 on most days.
This makes it hard for the dogs to get to enjoy their outdoor time, and everyone is feeling a little
lazy.
As many of you know, our director Jaxie, had her foot surgery in the middle of June. She has
been recovering, although it is a long and painful process. Please keep her in your thoughts as she
gets back on her feet, so to speak.
Adoptions have dropped dramatically. This is definitely a concern as most of our funding comes
directly from adoption fees. We ask, if you are able to, consider making a donation. Information
on how to donate is at the end of the newsletter in the "ways you can help" section. Another way you
can help is to adopt. We have been blessed to have many "repeat" adopters. We have a very extended
family and we appreciate each and every one of you.
We also want to take a moment to say a very sad goodbye. Albert, a wonderful little chihuahua,
has sadly passed away. Albert had been with us for many years, waiting for someone to fall in love
with him. He was a special boy who came in neglected and with heartworms. His treatment left him
with a low grade heart murmur. You wouldn't know it watching him, Albert was full of life. He will be
missed by all that knew him.
Meet and Greet
Most months bring new faces to us. July brought us a litter of little fluffballs. These
Pomeranian mixes are absolutely gorgeous! Two boys and four little girls, they will snuggle their
way into your heart. They were born June 4, 2012 and will be ready to come home soon! Please
allow us to introduce to you: Ashleigh, Bruce, Courtney, Isaac, Shirley and Tina.
We are working on a new feature for the newsletter. We know everyone is proud
of their adopted babies. Now it's time to share them with the world, or at least
with the rest of the Beebe family. Email me a picture and story you would like to
share at momof2rescues@aol.com and I'll add them to future newsletters!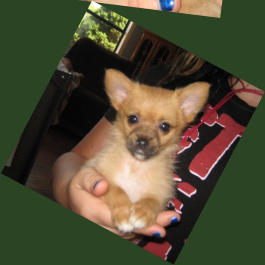 August was a busy month for the Beebe Humane Society. A lot of new faces joined us.
Please welcome:
Sam- 12 pound Schnauzer mix- This poor guy was an owner surrender.
Petunia- an 8 pound Chorkie, and also the mom of the pups from July
Wally- a 10 pound, 2 year old long haired red and white piebald Dachshund
Jager- a 10 pound, 8 month old long haired black and red Dachshund
Dominic- a 4 month old, 5 pound owner surrendered black Pomeranian
Butterball- a 2.5 month old, 3 pound female cream sable Pomeranian
Tiny Tic Tac- a 3 year old, 3 pound female Yorkie
Catarina- a 5 month old, 5 pound female Maltese
These babies will have pictures on the site soon!
Brooks is a gorgeous purebred chocolate Lab. This handsome young man is around
two years old. He is a big boy at close to 100 pounds, but definitely a "gentle giant".
We received a phone call from our insurance agent early in the year. He said he was
brought a Lab that had been shot with a b.b. gun. Luckily there was no permanent
damage done, but this poor boy suffered unnecessarily.
Brooks is in search of his forever home. He gets along with dogs, cats and every-
one he meets. He really is a sweetheart. We don't want him to live out his life in a
kennel.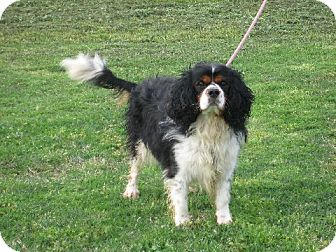 Sevie is a gorgeous male spaniel mix. Originally we thought he might have a little
Clumber Spaniel in him, but it was suggested he definitely has Cavalier King Charles
in him. Whatever it is, it works for Sevie. This boy is gorgeous with a personality
to match. He is about two years old, just the right age. Young enough to give you
years of companionship but old enough to be out of the "puppy" stage. Sevie was
found as a stray. He weighs around 25 pounds and has been with us for over six months
although we don't understand why. Will you consider this sweetheart for your next
family member?
Albert was a gorgeous little Chihuahua with a heart of gold. He was with us for
over four years. Sadly, Albert never got his chance at a forever home. He passed away
before finding that special person who promised to love him forever. This section is
dedicated to Albert. We feature those dogs that have spent years at the Humane
Society. Dogs that get passed over constantly, and we cannot understand why. Please,
if you can adopt, consider one of these babies. They deserve a shot at a family and
a home. We don't want them to never have that chance.
Who better to feature than Albert's "wife" and best friend, Rosie. She is so lost
without Albert. She loves her other friends and playmates at the Humane Society,
but it just isn't the same. I'll let Rosie tell you a little about herself:
Hi there- My name is Rosie-
I was asked to tell you a little about myself. I used to think I was a really special girl.
I mean, I'm sweet. I love everyone I meet. I get along with other dogs here. I love my
foster people. But, I've been here for a few years now and no one seems to want me.
I had a litter of puppies before I came here. I was being given away because I was of
no use to my family anymore. They decided to keep a cute puppy, instead of me. So I came
to the Humane Society. I was spayed and got all my shots. I didn't even cry. Before my
puppies I was a slim, playful little girl. I admit, I put on some weight after the puppies.
Baby weight can be stubborn. This summer was so hot I didn't get a chance to work it
off, so I am what is called pleasantly plump.
Do you think you could take me home? I promise not to cause any trouble.
I would love you forever.
Anyway I'm here, waiting. I hope you write for me soon.
Love-
Rosie
Sidney is a gorgeous Beagle mix. He is a Christmas baby, born December 25th,
2008. Sidney weighs around 25 pounds and is the perfect gentleman. Sidney has been
with us for over two years. He originally was living in absolute filfth at a house with
many other dogs. Thankfully Sidney escaped what was not a promising life for him.
Sidney had Cruciate Ligament repair surgery over a year ago and is doing absolutely
perfect. He is a happy and healthy little guy who would like a shot at a home. Please
don't let Sidney grow up at the Humane Society. He deserves a real family.
Mousie is about 8 years old, he is very comfortable here but afraid of new people.
He has been known to bite at new comers so we just avoid the situation. He gets along
great with other dogs and as you can see never misses a meal or opportunity for a treat
or snack. His crate is in the kitchen where he sleeps at night and he spends a good part
of the day wondering around the patio and back yard. He does not see well out of his
right eye and is blind in the left, the left of course is the one that needs to be removed.
He is on 2 drops of Timolol, night and morning, to help him retain the partial vision in the
right eye. Mousie has glaucoma, someday he will be completely blind but for now we are
needing funds to help with his surgery and maintain the eye he still has some vision in.
We do believe Mousie could be adopted, he would need a special needs family that would
be willing to help him. He has so much to give, he is very sweet and loves to follow
you around. Mousie is in good health.
Have lost their mittens. Ok, maybe they haven't lost their mittens, but they have
surely lost their homes. Please meet Prince (below) and Adele (above). These gorgeous
babies were thrown over the fence at the Humane Society. Now, let me say that the
HS sits a little ways back (long driveway) and there are usually big dogs running loose.
Let me also mention that the HS sits off a curve on a very busy two lane highway. One
that is normally full of cars, trucks and semis traveling at 50-60 MPH. Luckily
Jaxie saw the dogs running down. She had to watch as one kitten walked through the
fence and almost was hit on the road many times.
The Humane Society has no facility to care for kittens. These two are currently
living in a crate in the dog room. We are desperate to find them a forever home
ASAP. There is no adoption fee for previous adopters. Transport is $70 for one,
or both, of these darlings. Please consider adopting either of these sweeties.
They would also make a great package deal!!
As most of you know, without the support of our amazing family, we would not
be able to continue doing what we do. The Humane Society survives on adoption
fees and donations alone. We receive no government funding. We are a 501(c)3
non profit so any donation is always tax deductible. There are many ways you can
help with our day to day costs. Some ways to help are listed below. Every donation
is appreciated and every dollar makes a difference!
Can you sponsor a dog's spay-$85?
Can you sponsor a dog's neuter-$70?
Can you buy a tray of shots-$150?
Can you sponsor heart worm treatment for a dog-$300?
Can you sponsor a dental for an older dog-$100-$350?
Send a donation via paypal by going to www.beebehumanesociety.org
or by mailing it to
Beebe Humane Society
707 HWY 64 West
Beebe, AR 72012
Hank was adopted in March of 2005
Sadly, he left this world on July 16th, 2012
From Susan- Today is a sad day, we lost our beloved Hank
to liver failure. He arrived from Beebe at age 5, in March
of 2009 and had us at hello. He was a truly special boy,
funny loving and a wonderful companion to our Truman. But
we know we did what was best for him and that was for
him not to suffer.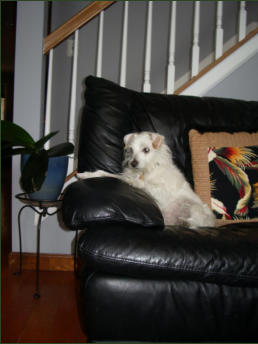 Kim and Richard- Here is Fern adopted from Beebe in
July 2010. She came to us missing half her teeth but stole
our hearts from the first pic we saw online. A year later,
after running into walls (laughing about it in her own way)
we discovered she had gone blind. She continues to amaze
us with how quickly she adapts, teaching us how to deal
with adversity. We couldn't love her more.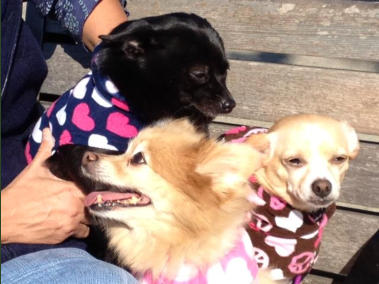 From Joy- We adopted Aja and Janie from
Jaxie three years ago to keep ol' Harley
(The happy pom in the middle of this pic)
company when her best friend died. Adopting
two puppas who were best friends already
from Jaxie was the best thing we ever did !
They keep ol' Harley company and keep her
feeling young ! We luv you Jaxie !
From Sue and Joe- Here you go! Sandi and
Pebbles adopted in 2007 and Roxie adopted i
n 2010. All puppy mill rescues!
From Susan- (Also mom to Hank above)-
Our Truman, home from Beebe November
2009. Over 95% blind and missing 14 teeth.
Truman spent the first four years of his life
at puppy mill before coming Jaxie and was
home with us within 4 weeks. He loves to be
outside and lying in the grass just checking
everything out. His next favorite thing is to
eat a frosty paw, his special treat once a
month. He was a scared and malnourished when
he came, terrified to be held. Now, at night
when he snuggles he cannot get close enough.
His story is definitely a happy ending both for
us and him